Easy and tasty pasta is a staple of lunch. We thought that if pasta itself had nutrition, you could enjoy a healthier lunch, so we created pasta with fresh spirulina kneaded into it. Because it is frozen, you can enjoy the taste of chewy fresh pasta as it is. By kneading in tasteless and odorless raw spirulina, this versatile green pasta provides the nutritional benefits of raw spirulina without sacrificing flavor. Since the pasta and sauce are packaged in one product, it is easy to heat up and has good time performance, making it perfect for a quick meal during busy times. Three sauces are also available: tomato sauce, peperoncino, and genovese, which are plant-based sauces, allowing you to compare the different flavors. It is also a very good item to buy when you cut corners.

View full details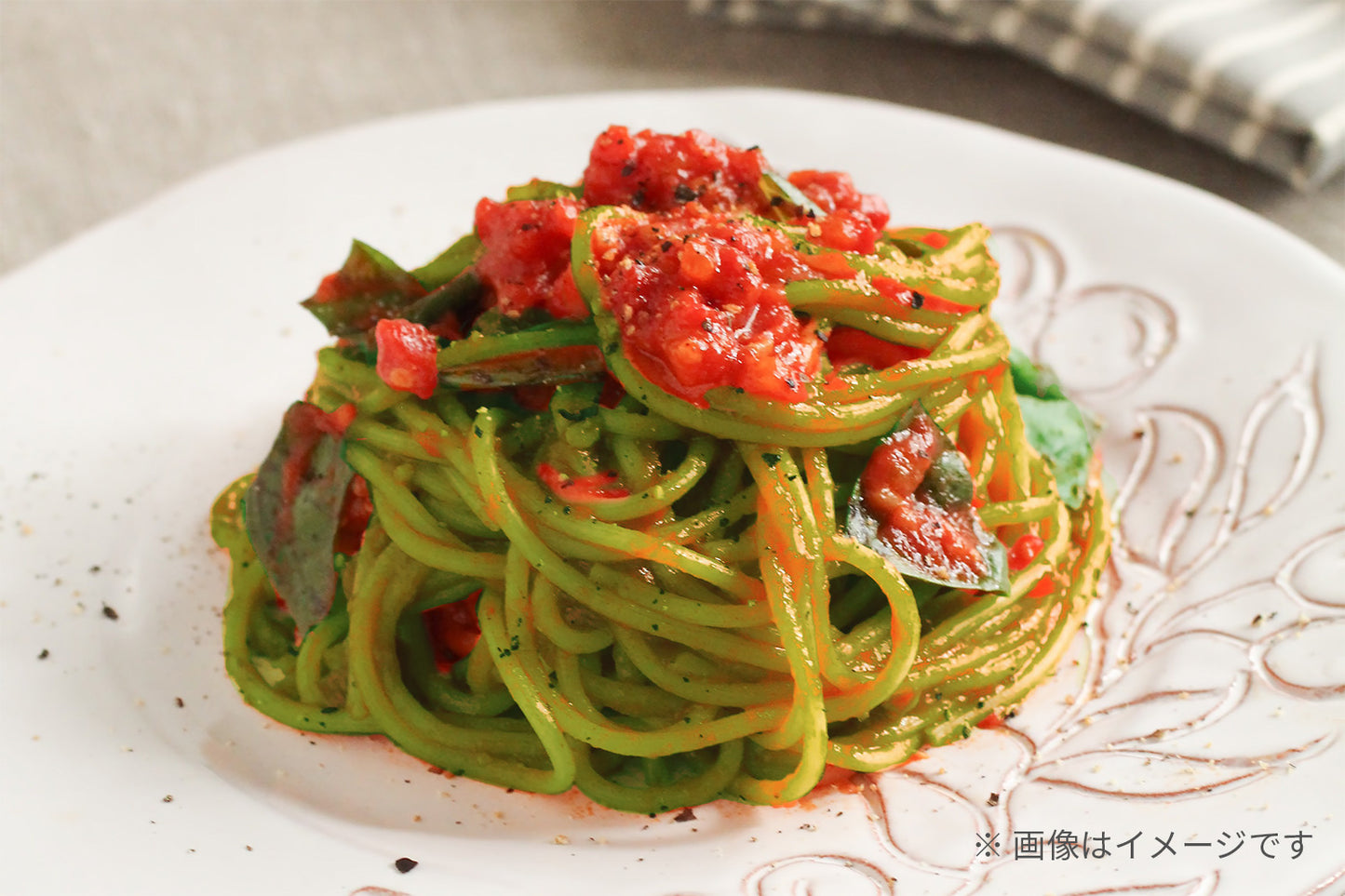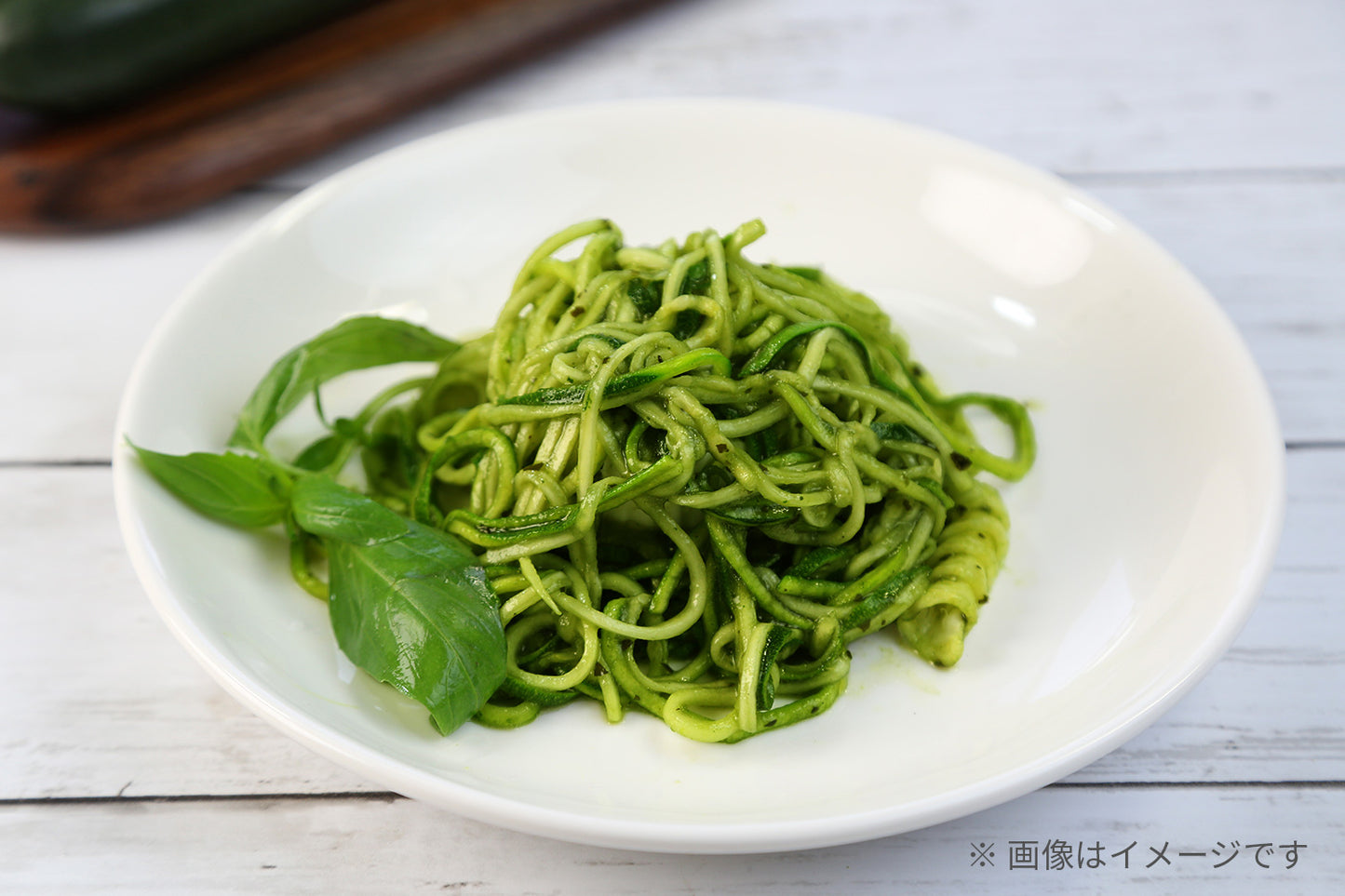 What's "more" about "Motto Pasta"?
Original frozen fresh pasta containing 10 g of raw spirulina is used.

Cooking is easy! Simply warm it in a microwave (or in hot water).

Three sauces (tomato sauce, peperoncino, and genovese).

No coloring, no polysaccharide thickening, no stabilizers.

Plant-based specifications are free of meat, fish, eggs, and dairy products.

This is an environmentally sustainable product with an algae business support plan.
\ This is how the "power of algae" enriches our lives./
This is how the "power of algae"
enriches our lives.
Partner
Tabérumo Corp.
Partner
Tabérumo Corp.
Activity Reports and Related Articles

1
You can stick to it and make it easy. Such excellent pasta realized?
Pasta has become a staple in our diet. There are many different types of pasta available, but when you are short on time, want to make things easier, or are in a pinch, retort-packed or frozen pasta is convenient. But inevitably, they end up disappointing in terms of nutrition, ingredients, and taste. With a plant-based sauce that you just heat up with nutrient-rich pasta kneaded with fresh spirulina, you don't have to meditate, thinking, "I'll just eat something decent tomorrow." Zero guilt, excellent for health, environment, time, everything. Make your free time your reward time.
(Busy office worker at work)
When I am busy, tired, or want to cut corners. Sometimes I use retort pouch or frozen foods, but I tell myself, "I'll eat it right tomorrow.
(Venture capitalist)
When you work from home, you often miss your lunch break by accident and your diet tends to be disordered. I'm looking for something quick and nutritious that will make me feel like I've had lunch. I'm looking for something that I can eat in a short time and get the nutrition I need and feel like I've had lunch.
(Working mom)
Is there anything that children and family members who cannot cook can just heat up and eat that is also nutritious and good for them? If possible, we would like to stock up on them for emergencies.
(Company employee concerned about lifestyle diseases)
I don't want to do anything at least on my days off. But I don't want to do anything that will ruin my diet. I think most of the deliveries are cold or not very healthy.
MIRAI (Developer)
Pasta is easy to make and visually satisfying as well as "eating something proper," don't you think?
(Chef)
How about using the sauce as a plant base and making three popular types: tomato sauce, peperoncino, and genovese. These three types are fun to compare.
Dr. PAKSA (Dr. Algae)
It's not enough to just stick to the sauce. How about kneading raw spirulina into the noodles? You're getting the rich nutrition that spirulina has to offer, you're contributing to an improved environment, and you'll feel not only zero guilt, but a sense of fulfillment.
NAMICK (Marketer)
Actually, pasta is my specialty dish, and I would love to have something like this. What if it loses out in taste as well?
Activity Reports and Related Articles

1
Participate and support this project
For organizations and corporations
form a partnership
For more information on MATSURI's initiatives and other information, please visit our partners' websites.
Choosing a selection results in a full page refresh.
Opens in a new window.